So is it chin-up or pull-up? Either way you going to do some work on it so get the one that is multi-position. There really is not need to drop big $ on this item so you can get the equivalent bar for a LOT less than what BeachBody sells theirs. I got mine for $33.30 + shipping. Alternatively you can use bands but I did not have any good and 'high enough' position to anchor one so I went with a bar.The bar I bough was "Maximum Fitness Gear All-In-One Doorway Chin-Up Bar"…what a name eh?
Here is what I shared at the Amazon feedback page:
First, there is NO prefect door pull-up bar…the perfect bar is…just a simplest bar with lots of grip and headroom.
Second, every door pull-up bar WILL damage you door frame over time, plain and simple metal is stronger than wood 🙂
Third, don't use your pull-up bar as push up bar….get a cheap set and benefit from mobility and variety of hand positions.
Yes, it works fine for P90X at 1/2 of the cost
Here is what I got out of my investment.
Parts:
It does come with all the tools you need – it comes with "j hooks" which are optional and if you want to use them then you will need a philips screwdriver otherwise you can put your tool bag aside. I did not use j-hooks and, in my humble opinion, if anything will ruin the drywall and sooner or later you will pull them out. It also comes with illustration for assembly where illustration was really enough info.
Assembly:
was pretty easy and as someone mentioned down the line, first put it all together and then tighten the bolts only with your bare hands.
-put together a top bar with two extension bars
-assemble handles and "U" shapes into a shape of "A" where handle point down as seen in the photo
-screw down loosely the outside (closer to your hand grip of the bar) bolt and then
-join the "U" shaped part wit the top/back crossbar
After, go around and tighten bolts and nuts to the best ability.
Then, try the bar and hang on it for a few and then tighten the bar parts again.
Note to self: Save the tools as the bar might get looser over time or the metal gives in.
Cons:
– It did not fit 'right' on my door and the main cross bar was way too big.
* FIX: Either way I knew that I will need some extra padding on this type of bar even if it did fit perfectly. Grabbed an old hand towel,cut it in half and zipped it up in place where the bar did rest on my door frame.(see photos)
– Bar has a bit a of 'clunk' if you shake it when not in use – as some screws are a thread or two longer than needed. Could be just the luck of the draw.
* FIX: Really not a big of deal. It can be solved by getting some threaded through standard nuts vs. the ones in package but I am not going to bother.
– Someone mentioned the Smell…not an issue for me, bolts and nuts are probably oiled a bit…just the side effect of having metal moving parts.
* FIX: If it really bothers you then grab some WD40 and clean the bar and parts lightly; it will speed up the process of 'airing out' but it might make bolts little harder to tighten and easier to strip…your call.
Overall, great value for the $ and added versatility of grips – especially wide grip, you can not get this with in-frame mounted bars. Respect the size of this item and measure before you buy, do your homework, after all it is not free so don't buy things that will not work for your setup.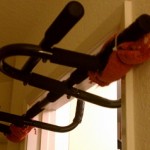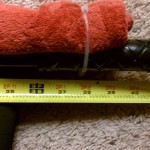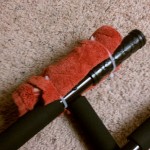 Odd this was that it came with ab exercise sheet and no workouts for the bar itself. Go figure.